Photo Friday: My Spring
A few minutes ago I was outside, walking around in my brown, soggy winter garden, and composing a sulky blog post in my head about how my spring is no spring at all.
(Y'know, that whole regenerative, new life business.)
I was seething from a crappy day at the Job that Blows, contemplating why it is that people who are no good at doing their own job are so damn good at interfering in, criticizing, and/or taking credit for other people's work. And feeling so utterly hopeless, after reading that adoptions from Guatemala may be suspended in January of 2007. Which leaves me feeling like:
We. Will. Never. Have. A. Child. Period.
And then I saw this.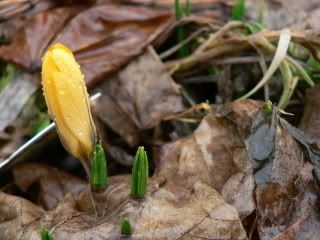 And even this.
Stubborn little tulips, working their way through the cardboard box that blew in from somewhere. Still with a patch of snow for good measure.
I came inside and re-read all of your supportive, wonderful, commiserative, hopeful comments. And felt something warm and spring-like in my bitter, grey, dried out winter soul. (My g-d, send her back to Creative Writing 101, please, please).
So that's my spring. One hesitant crocus. A tulip pushing its way through a cardboard box. A job interview next week. Another FET cycle starting soon. Not the most glorious show of daffodils ever, but it's something.
Photo Friday is a good thing. It makes me post about something else even when all I really want to do is just keep howling at the unfairness of it all.