Blogging for a Reason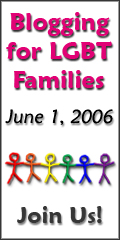 Today is
blogging for LGBT families
day.
Being behind the ball as I usually am, I didn't realize this until late in the day. If I had, I wouldn't have posted quite so many random conversations and lobster pictures. Because this is the post I want you to read.
I suspect that for some of the folks who read this blog, lesbian and gay families are not your first priority, or even close to it. Maybe you have gay friends or relatives, and you think they should be treated fairly, but it's not your number one voting issue. Maybe you wonder why we're making such a big stink about marriage.
As a person with diabetes, I'm already vulnerable to the vagaries of health insurance coverage. But as a person with diabetes and a lesbian, in a committed relationship, I'm doubly more vulnerable than I would be if I were married to a man. For the purposes of illustration, imagine (sorry, hon) that Pili is a man and we are (as indeed we are) married.
If her employer offers spousal benefits, I get them, no questions asked. She doesn't get a line on her w2 listing them as additional income earned, as is the case with domestic partner benefits.

I wind up in the hospital. She can make medical decisions for me and visit me, no questions asked, no documents needed to be signed.
I have a child. Or we adopt a child. Her name goes on the birth certificate, no questions asked, no second-parent adoption necessary. We don't have to worry about whether or not we can travel through states that don't recognize our second-parent adoption.

I'm a stay at home mom, raising our family. Something horrible happens to her. I get her social security benefits to allow me to continue to support our family.

None of these apply to us as a married lesbian couple. The fact is that marriage in this country grants substantial fiscal rights and advantages to those who are allowed to partake in it.
Please help me protect our family. Speak up. And tell others why it's important.